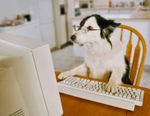 Wouldn't you love to get an email like that? "Yes, I've been following your blog and I like what I see, so I would like to sponsor your blog for my company. Is $XX.xx per week suitable?"
Wow, you'd be over the moon if that happened, wouldn't you?
Calm down. It's not going to happen. That's not how it happens. Here's how it really works – and by the way, you'll learn WAY MORE at BlogPaws in April…this is just a how-to 101.
You create blog. You write witty, informative, educational, funny content and you add lots of cute pictures of cats, dogs, horses, pigs, ferrets, or whatever pet or anipal you are focused on and the world… rushes to your URL every day! Maybe every day. Maybe once in a while. But, let's say every day. You're pretty popular.
Say, someone says to you – why don't you put some ads on your site or get sponsored? I hear bloggers make good $$ that way.
Say, you say to yourself, why don't I put ads and offer sponsorships on my blog? I hear bloggers make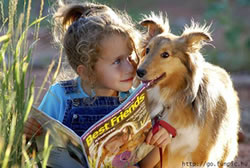 good $$ that way!
And so you do. You start with Google Ads (and soon learn that doesn't make you much $$), you create a page describing your blog and its traffic and you offer small ads for $25/wk or a full month sponsorship, with a 3-month commitment, at $75/mo. A bargain. And then…you wait.
Nothing happens. However, in time, you get emails from companies overseas asking if they can buy a link for $10. Or, you get companies who write and say they want to place an ad about a totally irrelevant product – and they only want to pay per click.
What's a blogger to do?
If you are intent upon sponsorships and advertising on your blog, you have a few options. Join a network that serves ads and you will get noticed by the right people. You might make good money that way, or just a trickle. Depends on the way the ad revenue is shared.
You could be your own sales person and make a list of the top 50 companies that you think are relevant to your blog, and that are putting ads on other blogs. Then, you call them. Yep, you call them. You present your blog and your rates and you build a relationship that might, over time, net you ads or sponsorship dollars.
And last, you could concentrate totally on your blog to make it the best of the best in its category. You could write three times a day, link to major media sites, connect with other bloggers who share you with all their friends, and you could get on twitter to share all that content respectfully (always focused on the benefit not the features – NO SELLING!), and over time,  your blog will likely catch the eye of some of the companies you'd like to work with.
Here's the rub- all of these options require hard work and time. You cannot blog and expect immediate, positive results. Sure, there are some folks who created a political blog, or a food blog, or a Mommy blog, and gained national attention – but even they started from ground zero. You might follow one or two that you know, and do what they do! Know that they have explored and answered the question the companies they want to work with ask up front, "What's in it for me?"
Do that – and you'll soon have a fabulous blog that is ready to share ads and attract sponsors. It's easy. As easy as herding cats. (and a good reason to attend BlogPaws – to meet folks who have done this successfully and to learn from experts who can teach you how!)