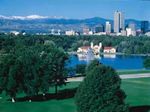 The Grand Hyatt Denver is located at 1750 Welton Street – which happens to be a stone's throw away from the 16th Street Mall! 
The mall is home to 300 different stores, over 50 restaurants, and the Denver Pavilions; needless to say there are many sights and attractions right within walking distance. Another Great thing about the mall is that it is now a wireless internet hotspot where users can log in anywhere along the street, for FREE!
City Park is a few blocks directly east of the hotel and has the Denver Zoo & Denver Museum of Nature and Science right in its borders.
Near the southern end of the 16th Street Mall is the Golden Triangle Museum District. Segway tours are offered of the city, or there is the bicycle option for those more adventurous characters.
You have plenty of fun things to do, on your off time. Don't forget to share – pics, stories, and adventures.