It's all well and good to be innovative, creative, and agile (flexible). But, in the end, don't we all need tools to help us succeed?
Let's agree that the purpose of being in business is to get clients or customers. Without them, whatever you're doing is a hobby, not a business.
With the advent of the Internet, and the power of social media, today, business people have more opportunity to connect with customers on a personal level. Blogs are one way to do that. Twitter is another. A good many of us are using Facebook.
The disconnect arise when we don't have the tools we need…to manage the tools we're using.
Help is here. Using social media tools like twitter, Facebook and others, can be easier if you look into the opportunities I'm going to list next. Let's give credit where credit is due – the free tools here were found on Grizzard, where Eric Pratum shared his advice following the NTEN Nonprofit Technology Conference, in April.
One of the best take-aways from Eric's post is the explanation of the 90-9-1 rule: that "90% of people online lurk; 9% participate; and 1% are highly active or are creating content."
This list is for all of you: (by no means inclusive – these are a few of the suggestions I saw on the Grizzard site; do find others and come back and share, please)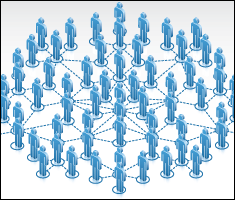 Google Alerts – you should have this set up to report on every mention of your name, your business, your blog, and any relevant keywords
Alltop – a news aggregator that serves up the most recent content from a variety of sources. You can tweak it to serve just the content you want.
ScoutLabs – a new one to me. Eric says, "…a listening and monitoring service with a 30day free trial. Licensing fees apply."
TubeMogul – another new one on me. This site syndicates video content to more than 20 video sites. Also helps track views, comments and other relevant info.
Be sure to visit Eric's post and do some online research of your own. The more you learn to use the tools available, the more success you will see with your online business ventures. And, the more you share with your community, the more recognized you'll be as an expert in using social media.