Go here for the previous post in this series
By Carrie Boyko, All Things Dog Blog
The assignments on my Workbook Page of Niche Clarification Resources should have opened your eyes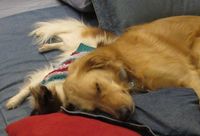 to the blog that your readers see. Now that you have a good idea of who your readers are, let's look at what your niche is. Once again, I'll be using an off-campus activity book to give you homework that I simply cannot fit into a guest post. I encourage you to take your time, sleep on your decisions, and make sure they are a good fit for your passions.
This week's assignments are much easier than the previous batch, so you can breathe a sigh of relief. Your first task is to identify your role in your blog. You'll find a list of possibilities at Resources for Organizing Your Themes. You may find that selecting one is difficult; there may be several. 
Now comes the fun part. Your objective is to analyze your current blog themes to determine the combination of all themes that are prevalent, and therefore represent your present niche.
I've included an extensive list of possibilities—quite randomly scattered–for you to select from at the Resources page. Take some time to make a list of all the blog themes from this list that you regularly publish material on.
Are any themes missing from my list that belong on yours? Let me know at [email protected] and I'll get them added to the list.
Now you get to ask yourself some tough questions. Grit your teeth and dig in:
Does this niche have a name, category, or title that will help you explain it to others? In order to effectively market your niche to those that will be interested, you need to be able to summarize your themes into a short statement. Hold that thought while you meander on.
Are there themes on your list that stick out as inappropriate to what your overall goals are? Consider your sidebar material, ads and all content when you answer this question for yourself.
Do some of the themes on your list fit "well enough," yet still not feel like your passion? Maybe it's time to let them go.
Are some of your most passionate themes missing from your blog
I'll be back in a couple of weeks to see how you're doing. We'll then look at finding the glue to connect your passions into a niche that works with them. Combining the right topics with your themes will help you create a niche that works with your passions AND your new readers to come. See you June 24th.

Carrie Boyko writes All Things Dog Blog, where our goal is to help our readers with strategies for happy dogs and happy families.
Editor's note: Check back June 24 for the next installment