To: Alan Mulally, CEO, Ford Motor Company
      Sheryl Connelly, Mgr. Global Trends and Futuring
From: Tom Collins, Co-founder of BlogPaws, Ford Fan
Everything about the Forward with Ford conference showed how Ford is walking the walk, when it comes to seeking and embracing useful ideas from wherever they can be found.
They brought in speakers and experts from a wide array of fields and perspectives outside of Ford to partner with an equally diverse group of Ford engineers, scientists, researchers, executives, and marketing folks.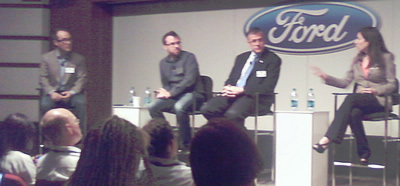 In addition to Gladwell, the outside experts included:
Ed Begley Jr. – actor/environmentalist (interview by Plus.Lily.Makes.Three blogger)
Carol Orsborn, Ph.D. – Boomer Woman Spokesblogger and Brand Ambassador
StewartWang, M.D., Ph.D. – Founding Director of Int'l Ctr for Automotive Medicine
Charles Sophy, D.O. – Author/blogger on communicating effectively with teens
Barbara Bylenga – Founder of Outlaw Consulting, specializing in Gen Y values
Paul Hochman – (in photo above, left) tech guru for the Today Show and Fast Company
Tim Westergren – Founder of Pandora internet radio and the Music Genome Project
Ty Roberst – Co-Founder of Gracenote
Bob Struble – CEO of iBiquity
Joel Garreau – Author, Principal of The Garreau Group, and Dir. of the Prevail Project
Perhaps more impressively, they were there to talk to an audience of mostly bloggers!
And a motley diverse group we were, too. Here's a totally unscientific sampling, based on folks I met and remembered to get cards or contact info from, in more or less chronological order of our meeting up at the conference:
Starting with the rest of our own BlogPaws contingent:
Felissa Elfenbein – pet blogger at Two Little Cavaliers
Karen Nichols (Skeezix) – pet blogger and managing editor at Mousebreath
Then:
Lyn Graft – Founder of LG Pictures and pet blogger (of sorts) at Fitty G
Margot Lester – Founder of The Word Factory
Jessica Benton – Founder of That Tech Chick blog
Lori Cunningham – Founder of the Well Connected Mom blog
Susan Kuchinskas – Freelance writer, Author, blogger (bio)
Jane Gessner – Founder of Midlife Bloggers
Nicole Yeary – Founder/Principal of aelloLuxe and blogger at NicoleYeary.com
Doug Dobbins – Co-Founder of TakesOnTech.com
So, what did the assembled experts have to tell us?
Well, the three trend sessions I attended were Emerging Technologies, Living Green, and Safety. It's that last one that prompts my main message to Ford in this memo.
But first, I want to mention another way I was impressed that Ford is approaching innovations that goes back to its roots. Henry Ford famously said he was out to "democratize" the automobile and make them accessible and affordable for everyone.
In the Emerging Technology area, that theme came through in Ford's decision to design its SYNC and MyFordTouch in-car communication systems as open platforms, connecting the "brought in apps" on your smart phone or mobile device to the car and making them accessible by your voice commands. The systems are included in the price of the car and the services are free for the first three years of ownership.
In the Living Green session, along with efforts to use a remarkable range of natural, renewable plant products to make everything from seat cushion foam to reinforced plastic parts, Ford has partnered with a battery charge manufacturer to produce a portable charging system. This means you don't have to permanently install it in your garage, but can take it with you when you change addresses.
And in the Safety session we learned about crash avoidance systems that Ford is creating using simple WiFi and GPS, instead of the complex and expensive radar-based systems being used in some luxury brands. This means, as they did with SYNC, the new systems can be introduced in models like the Focus and made available for a few hundred dollars across all models.
Tomorrow, we'll dig into the big omission from the Safety session, which was built around the theme Safety for All Ages. It showed how Ford is working to address the safety needs of the "whole family." This ranged from cutting-edge research on infants and toddlers, complete with a specially designed crash test dummy that simulates the abdomen of a child, to the MyKey technology that allows parents to limit speed and radio volume when a teen is driving, to inflatable seat belts and blind spot warnings to help both passengers and drivers, especially the older ones.
I bet you can tell what's missing already, right?