In no particular order, I thought I'd take today to share some link love from the BlogPaws blogroll. These are members of our network – we hope you'll take a minute to visit their blogs and leave a comment in hello. Watch for more bloggers… next week. Oh, and don't forget to check out our featured bloggers, sponsors, vet bloggers and Be the Change Story. If you have a vet you'd like featured, or a Be the Change Story, send it along.
Biscuits by Lambchop – A Doggie Lifestyle & Wellness Blog
This recent post talks about a Marine who was reunited with his puppy – from his term in Afganistan.
Adventures of @SnotfaceCritter –
Who doesn't love a ferret? Seriously, this one has been a regular at the BlogPaws West offices and he's a treature. Enjoy this post on how to trim your fuzzy's nails!
Dancing Dog Blog – a friendly voice- an expansive view
This is a great blog that "strives to keep you on the front edge of what's happening in the world of Pets…" I especially like this post on Dogs and Babies – A look a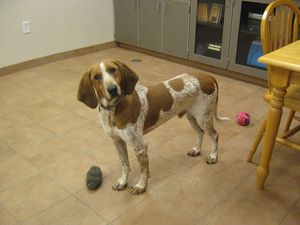 t pet safety.
George the Duck – Seriously. It's a Duck called George!
George is a friendly guy who shares loads of valuable info. Check out this post on how to do an "anipal  twitter pawty."  (Chester seems a bit skeptical about the duck part…)
Pet News and View – A blog for pet and wildlife lovers
This great blog shares a wealth of information with every post. The most recent post talks about Farm Sanctuary – and reminds us that animals like horses, cows, pigs, sheep, chickens and more – need our help, also. We're their voice against neglect and abuse.