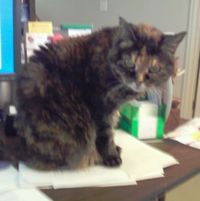 I'm not a great fan of focusing on ROI for everything you do. Yes, it's important to know who your readers are and what content is most "popular"… but social media doesn't lend itself to strict "roi", the way old-fashioned marketing does. (billboards, print ads, tv ads – they're all qualified by how many people are 'watching'; blogs are a mystery to most even though we can show more and better stats…but that's for another day).
Instead, shouldn't we be more concerned with building relationships? Tom, who is a BlogPaws co-founder, wrote about ROI on his Books, Blogs and Beyond blog, and he talks about 16 flavors of ROi – something worth a look-see, perhaps. (yes, the "i" is lower case on purpose)
We bloggers who are monetizing our blogs want to be able to show advertisers and sponsors exactly what they're getting for their dollars – 500 page views a day, or 25,000 unique visits a month, or 2500 shared videos on YouTube. Sponsors and advertisers want that guarantee that their ad or logo is going to get the right eyeballs…and saying your blog attracts 1000 visits a day makes them feel good about writing you a monthly check.
Let's talk about those "eyeballs." In almost all media, except radio where you listen, you don't 'look', brands want the eyeballs. That's what they pay for on SuperBowl Sunday. That's what they want on Academy Awards night. Who is going to "see" them?
Increasingly, brands are looking at blogs and social media because it's possible to qualify the eyeballs that might be looking at the brand. For instance, isn't it reasonable to believe that most of the visitors to BlogPaws are pet people?  I have a blog about marketing to women and I can tell you that the majority of my visitors are – women. This is why you see so many brands and media companies eager to tap into niche communities. The better to find the people who are interested in what they sell.
Just look at our own Caroline and her Romeo the Cat blog – it's for fund raising – helping shelters out. Brands that are involved in fund raising and giving back to the pet community, want to be part of that. It just makes sense. Why not let Romeo be part of what they will do, anyway?
As far as tracking ROI, it's done with tools like Google analytics. My friend, Andy Wibbels, just shared his Google Analytics Cheatsheet with his newsletter list. As usual, he has created something extremely informative and useful. This chart shows the power of Google analytics - in a visual, easily understandable way. It demonstrates that using social media really does uncover more data and information. Using Google analytics you can chart visits by:
site search
event tracking
traffic sources
search engines
country or territory
city
recency of visit
length of visit
depth of visit
visitor loyalty
And a whole lot more. These prime stats are the reason your blog can be monetized. By using tools that track the kinds of information brands want, you can show advertisers and sponsors that you have the eyeballs to interest them. And even if you only have 200 eyeballs (100 visitors) per day, you're worth something. After all, these will be 100 engaged, devoted readers. Better than the 1 million invisible, uncategorized, unknown eyeballs a brand might get on TV.
Some of those eyeballs on TV will belong to the cat and the dog. And while WE think that's kewl, a brand might wonder when the cat or dog will be hoofing it to the store to buy their products.
Using social media – blogs especially – a brand has an opportunity to actually connect with real people. Think of the conversations! Think of the opportunities! Think of the power. You have it. Learn how to use it. Come to BlogPaws in April and we'll show you.