Well, it is not really about "work" per se; the big hype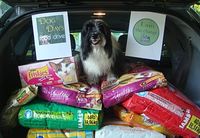 about "Dog Days of Summer" is to get as much food, supplies, and love to our shelters.
Through the shared efforts and vastness of our internet stomping ground, the reach of this campaign is going to be astonishing. I read about how with word of mouth Cosmo and Diane managed to acquire a whole 230 pounds of food to donate to Save Our Pets Food Bank in Atlanta. Gracious they must be to have such wonderful friends and neighbors to help with the cause!
Surf Dog Ricochet (her name is really just Ricochet) is a wonderful character who raises funds for some of her favorite charitable causes. One of which happened to be getting one of her sponsors to donate food to the Rancho Coastal Humane Society and the San Diego Humane Society; over 350 lbs between the two of them.
Big thank you to Canidae Pet Foods for the supplies, and of course great job Ricochet - hang 20 for us!
With just a little energy, anyone of us can Be the Change for Pets. "Dog Days of Summer" goes through July 31st, so there are just a few days left. How will you Be the Change? (And let us know what you did!)