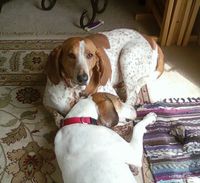 For those who have not yet had the opportunity to check out the BlogPaws Conference speaker page and/or program page, Chester (seen here with Emily) is giving you his deepest, Why Not? stare. So, let me nudge you to get over there today.
See our Fab Speakers Here.
See our Fab Program Here.
Early bird pricing for the conference is over…OMG!!!… on Tuesday. Let me think – that's tomorrow!
Another little nudge – are you a member of our growing community? Your friends are there. And, it's the place we're going to be going when we have ad opportunities, or blogger outreach opportunities, or product reviews. Plus, there are a lot of great conversations on writing, which blog platform to use, big dogs, little dogs, traveling with your dog, second chance dogs and cats, and… a ton of photos and videos you won't want to miss!
I say we work to get the 356 member number up to 400 by week's end! Who's with me? Just invite 2 of your best pet blogger friends and ask them to invite 2. And, if you're one of our fab members who signed up before we launched the platform, and have not yet come by to fill out your profile… why not do it this week?
No doubt regular readers saw the big announcement that BlogPaws and BlogHer have joined forces. This partnership is designed to benefit the BlogPaws bloggers and introduce them to some really fantastic Mommy bloggers. Let's face it, lots of women and not a few men, love their pets as much as they love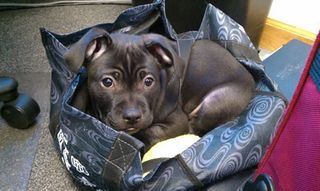 their kids. But, they might not focus their blog content on their pets, like we do.
[who could resist this little guy, sleeping in one of the attendee bags after BlogPaws West?]
That just means we need to embrace more voices in the pursuit of our goals – to support our pets' better health and nutrition; to read stories about pet rescue; to laugh at videos of pets and kids; and to help brands understand that, to us, pets ARE kids!
The BlogHer brand and bloggers are an interactive group of high quality writers and social media folk. We know combining forces will help all of the bloggers on both sides make more friends and accomplish more goals.
Have a REALLY GREAT Memorial Day, today. It's a day to give thanks to our soldiers and the military dogs that help them achieve success. We're all in this together, aren't we?
See you at BlogPaws!