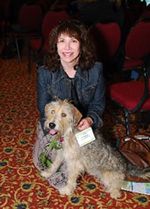 by guest blogger Joan DeMartin
When Bocci and I first started our blog, Bocci's Beefs, a little over a year ago, we really had no idea which direction to take it. We knew we'd like to include at least some humor (it's written by a dog, after all), and at the same time, provide our readers with lots of quality information about pets-and that was all we had in mind.
Within a few months of our blog's inauspicious start, I saw a post on another blog about an organization called BlogPaws and their inaugural conference that was going to be held where we live, in Columbus, Ohio. I couldn't believe my good fortune-an international conference that focused on bringing together pet bloggers like me with the companies that provide pet products and services was being held in my own backyard! I received BlogPaws' first ever "Bloggership" to attend the conference, and for me, the rest is not history, but my future.
At that first conference, I made not just important contacts in the blogging and social media world, I made good friends. I think this was possible in such a short time, because we all wanted to promote a single cause: helping companion animals in need. However we chose to "Be the Change For Pets", BlogPaws provided timely, important information, experts galore to help with every aspect of blogging and marketing, opportunities to meet "nose to nose" with pet product and services representatives, and the encouragement and personal mentoring that those of us just starting out so needed.
When I left that first BlogPaws conference I felt empowered to use my blog to promote the adoption and rescue of orphaned pets. And as a freelance writer, I knew I wanted to spread the word about what BlogPaws could offer. I just happened to be a longtime fan of Cesar Millan, the Dog Whisperer, and I knew that what I learned from him had changed the way I related to my dogs. I also knew that one of Cesar Millan's major objectives is to empower humans to become "pack leaders", not just in relation to their dogs, but in all areas of their lives. And that's exactly what BlogPaws offers: the tools to empower each person to help pets in need, in whatever ways fit their personal mission-to become "pack leaders" for change.
I wrote an article about the first BlogPaws conference that was published on Cesar Millan's website and newsletter, "Cesar's Way" in April of this year.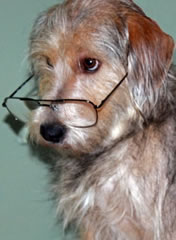 For the next several months, I used the skills and contacts I'd made at BlogPaws to focus my blog on pet adoption and rescue. I was thrilled to learn that Pedigree had noticed my efforts and sponsored me, along with nine other bloggers, to attend the second BlogPaws conference in Denver (BlogPaws West) to help promote their pet adoption drive. This second conference was even more powerful and more empowering, this time with more focused dual themes: how humans can use social media to help abandoned animals, and how dogs can rescue humans. "Be the Change for Pets" was an even stronger guide for the conference attendees, and I hoped that Cesar Millan would want to highlight this effort for his readers.
The BlogPaws team and I are proud to announce that an article about the BlogPaws West conference appears on Cesar Millan's website and in today's Cesar's Way newsletter.
Enjoy!