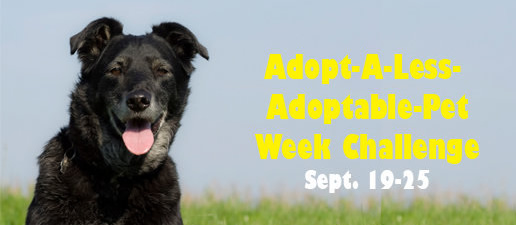 UPDATE: As noted on our BlogPaws Be the Change for Pets page, this campaign is official! Do I hear big cheers on twitter? W00t!
Best of all… we now have sponsors stepping up to help our less adoptable pets. 
Litter Robot will donate $5 per post, up to $500
Hartz will donate $5 per post, up to $2500
PetSmart will donate $5 per post up to $2000
And more to come…
You can be one – just contact the BlogPaws Team. And, don't forget to write that blog post and share it here. [linky tool below… 27 132 163 190 201 230 and counting! Let's keep it going! W00t!]
The Goal: Help homeless pets who often get overlooked!
Check out these stats from a survey conducted by PetFinder -there are a few common categories each of these pets fall into. The most important thing is that each one of them is in need of a loving, forever home!
How You Can Help:
Go to the Be the Change for Pets Facebook page for all of the official guidelines, but the challenge is basically to promote a "less-adoptable" pet available for adoption. Use all of your influence and tweet, blog, and get this deserving pet into the limelight! It gets even better because on the Be the Change for Pets Facebook page they have many resources and tools available to you, such as a blog post template. You don't even have to be a blogger to join in with the effort! There is even a template press release to send to your local paper, or you can donate to your shelter and tell them about it on the Facebook page!
Don't forget to let everyone know about your effort!Add your blog post, Facebook post, Tweet (#BetheChange), newspaper article or other link to our Adopt-A-Less-Adoptable-Pet Week Challenge post so we can see our collective effort.
There is also this list of wonderful people and bloggers! (NOTE: Linky List is Now Open!)