UPDATE 10: Contests & Prizes Galore!
Anipal Times is having a drawing for a full pass to BlogPaws 2011!
BlogPaws is holding a Photo/Caption contest with a Grand Prize travel package to BlogPaws 2011! And the BlogPaws Community will be holding a T-Shirt Design Contest for the 2011 conference t-shirt. Watch for the announcements!
And when you GET to BlogPaws 2011, our sponsor-friends at AAHA will be running a scavenger hunt with an iPad for the winner (details coming soon)!

UPDATE 9: Time is flying by! Early Bird pricing for BlogPaws 2011 ENDS May 31. Don't miss it: REGISTER NOW!
The preliminary listings of this year's educational sessions and speakers have been posted. Check them out!
Detailed session descriptions will be added soon. And we're working hard on finalizing the schedule, so we can get the fancy grid up, that Tom likes so much.
Plus, more news about a greatly expanded Vet Track coming soon! So check back often!
UPDATE 8: Sell Your Stuff, Save a Pet is on! List the "stuff" you're selling!
Shop the lists and buy some stuff to help pets! (You know you want to.)
Report your local shelter donations and check back after June 5 to see the total results!
UPDATE 7: The BlogPaws Community features are live! Those of you who've already filled out the Community form — you know who you are, right? — THANK YOU for your patience!! You should have received your email invitation to set up your account, so please let us know if you think we missed you in error. Or better yet, just go sign up directly!
UPDATE 6:
Amid all the important pet welfare efforts last week, we announced the BlogPaws 2011 Keynote Speakers:
We interrupt our featured updates
for this week's important causes: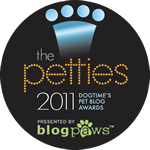 UPDATE 5: Start writing your acceptance speech! Pick out your formal wear (and your pet's)!!
Planning with Dogtime for the 2011 Petties has begun. This year will be bigger, glitzier, and more fun!
More categories, more winners — all with your help. Watch for details!
UPDATE 4: Hoping to quell a Twitter uprising, Tom said, "Give 'em what they want!"
Two styles to choose from on the BlogPaws 2011 Badges page.
UPDATE 3: Yes, it's Jan. 31 already. Don't miss it!
Also, to nip the brewing Twitter revolution in the bud (@grouchypuppy, @dlsilver, @dancingdogblog, @vscook), working on providing special badges for returning BlogPaws Alums! Stay tuned!
UPDATE 2: Another reason to register early! The Sheraton is extending the special BlogPaws room rates for 3 days before AND after the conference, so you can plan to see some Washington DC sites, too. But only "subject to availability of guest rooms at the time of reservation" — so don't wait!
Big plans, big doings, lotsa learning and lotsa fun!
UPDATE: BlogPaws 2011 Badges now available here!


More BlogPaws 2011 info here.
Register Now for BlogPaws 2011 and take advantage of Advance Sale pricing!