By Guest Blogger Chloe DiVita

As I'm sure you already know this Friday, June 24th, is Take Your Dog to Work Day! For all us dog lovers it's a great day to share our furry kids with our co-workers, show off their tricks, dote on how cute they are and feel a little more warm and fuzzy as we go through our work day. Of course, there are always those pets that will make sure so you don't actually get any work done, but that's part of the fun!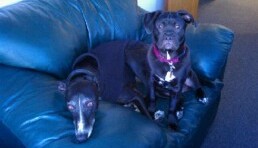 Hopefully you work for a business that has registered to participate and is inviting your four legged friend into the office for the day. Since I bring my dogs to work just about every day I wanted to share what I believe is the Take Your Dog to Work Day checklist. Some things are obvious. Some are just suggestions.
First and foremost, make sure you take some time on Thursday to dog proof your office area. And, if you have other special things you plan to pack I would love to hear about them.
Food. This includes a food dish, a water bowl and the actual  kibble your dog would usually get. However, don't be surprised if the excitement and/or change in environment keeps your dog from being very interested in a meal.
Toys. Bring 2 or 3 favorite toys to help occupy your dog. Keep them out of sight until necessary and then introduce them 1 at a time. Putting all the toys out before they are needed might cause your dog to lose interest quickly. Choose the toys wisely. Squeaky toys are probably not the best choice.
Treats. Not only do treats help your dog mind some manners, dogs usually will eat treats even when they aren't interested in food. I usually bring a bone of some sort that I know will occupy them for a period of time. It's helpful if you have a conference call and you don't want your dog to be one of the attendees.
Bed. Hopefully at some point during the day your dog will actually take a nap! If you can't bring a dog bed for some comfort, bring a blanket that can be their spot to relax. My dogs actually occupy our office couches and chairs, which is a great option if you have it.
Leashes. I usually have two. A shorter one that I use for walks and a longer one that I can use to keep them by me if need be. It's not always conducive to have them wandering the office, so the longer leash comes in handy during those times. Although, so many people come to the office just to give them attention I'm pretty sure they believe they run the place.
Clean up materials. Even if your dog is completely potty trained it's good to have the basics with you just in case there is an accident, or a co-worker's dog has an accident. I keep carpet cleaner in the office and scented candles to help cover any unwanted smells…which don't always come from accidents!
Poop bags. Seems like an obvious thing, but you definitely don't want to be caught empty handed!
Meds. Don't forget any medication that your dog might be on. Twiggy, my Greyhound, has more meds in the house than any other occupant, and in times when they have been necessary I always have to do a double take to make sure I have what I need.
Plan for the weather. If it's raining plan to bring a towel or two to keep your dog's paws wiped off. If it's hot make sure you park your car in the shade so it's not going to bake you and your dog when you are ready to leave.
Camera. It's not every day you can snap some shots of your dog in an office setting. Have fun. Show off. Be proud!!
Don't forget to gush on your co-workers' dog. We all love to hear how cute our pets are and this is the day to share that with everyone. But also remember not everyone is a dog lover. If a co-worker is uninterested in your dog, that's ok. Don't expect everyone to interact with your pet.
Last, know what you will do if something does not go as planned and you have to remove your dog from the office. Will you take them to a near by friend's house? Do you live close enough to drive them home? We all hope that nothing like that will happen, but it doesn't hurt to have a plan for it.