1. Facebook is a bit mysterious. Although having been around for a long time now (in Internet years), most people still don't know what to do with it. Ferrets are mysterious because we know of them, but few of us know about them.
2. Facebook is busy, busy, busy. Facebook has so much going on at any given time, it makes one's head spin! Ferrets are so busy they sometimes seem like they are in two places at one time!
3. Facebook relies on lots of people to be successful. Ferrets rely on their people to make sure they are successful. Their adorableness works wonders. Sometimes their people put them on Facebook to help Facebook be adorable. (wonder if that's working…)
4. Facebook attracts attention by offering fun things to do. Ferrets are fun, and offer their people something to do all day long.
5. Facebook continues to grow on us. More and more people are joining every day. Ferrets are beginning to grow on us, also. Visit one today and you'll see what I mean.
6. Facebook never sleeps. While I have it on good authority that ferrets do sleep, you can't prove it by me! The resident Snotface, when he visits, never seems to stop exploring!
7. Facebook does not respect your privacy. This is controversial, at the moment. But, it fits – ferrets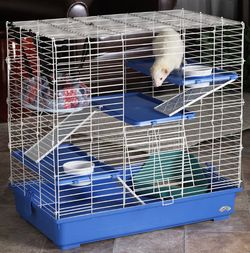 absolutely do not respect your privacy. They get into everything!
8. Facebook just wants to make friends. Ferrets just want to be loved.
9. Facebook isn't for everyone. Ferrets are marvelous creatures – they need proper care, love, and feeding. They are not for everyone. (a fab home like the one pictured here, would be good…click the image for more info)
10. Facebook brings people together. Ferrets create new friendships wherever they go. No one can resist them. And they get along with your other pets, too!
Visit a ferret rescue or shelter today – and help them keep ferrets safe and protected. Adopt only if you are able to serve unconditionally.